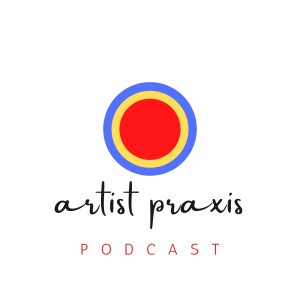 Artist Praxis is a podcast created by Debora Faccion Grodzki and Sarah Arriagada, featuring more than 40 interviews with artists around the world. The podcast culminated in an exhibition titled Tightly Knit, Loose Fit which brought 38 of these artists to Ortega y Gasset Projects in Brooklyn, NY, in the summer of 2023.
Tightly Knit, Loose Fit is an exhibition exploring the dynamics of language and artmaking as interconnected aspects of praxis. According to Paulo Freire, praxis describes the perpetual process of making something in the world and making meaning of it. This concept is fundamental to the mission of the Artist Praxis podcast, founded by the exhibition's curators, Debora Faccion Grodzki and Sarah Arriagada, and central to the conversations they conducted there with each exhibiting artist. The exhibition title, "Tightly Knit, Loose Fit," infers that the podcast interviews and artworks come together in this public event to connect thoughts, practices, and materials in a manner that resembles creative actions such as stringing, piecing, and weaving.
Tightly Knit, Loose Fit includes 38 artists from diverse backgrounds and artistic practices. Though based in the United States, Brazil, Cambodia, Germany, Scotland, England, and France, a majority of the exhibiting artists have their immediate roots elsewhere: in Russia, China, Ireland, Serbia, Mexico, Colombia, El Salvador, Guatemala, Türkiye, Vietnam, Slovakia, Ukraine, the African diaspora, and the First Nations of these lands. Adding to the multicultural, multilingual, and multipersonal conversations in the podcast, the exhibition honors the sovereignty of human creativity by bringing together artworks that show the gaps and pitfalls of language, the space in between the embodied and the materialized, and the pauses and discordances in artistic practices.
With the option to use the podcast episodes as audio guides, exhibition visitors become participants in the unfolding of praxis. This multisensory experience shines a light not only on the works on display but also on what it means to make art today and on the human dynamics involved in making sense of creativity as a global community.
The exhibition occurred at Ortega y Gasset Projects, an artist-run non-profit gallery in New York City, from August 12 to 27, 2023.
Ortega y Gasset Projects, The Old American Can Factory, 363 Third Ave., Brooklyn, New York 11215.
Find a complete list of the exhibiting artists and their bios here.
Find a complete image list here.
Read this article by Jennifer Wilson for T Magazine (The New York Times) on Ortega y Gasset Projects and other artist-run spaces in New York City. See the images below for the featured installation shot of the exhibition Tightly Knit, Loose Fit.